This article was originally published on The Daily Muse.
By Emily Gladnick
Planning and hosting an engagement party, bridal shower, or other bridal event can not only be a lot of work, but can take its toll on your pocketbook! But, creating stunning centerpieces for your event doesn't have to stress you out (or cost you a fortune!). Here's the how-to on do-it-yourself floral arrangements that will look like they were designed by a pro.
Modern Fun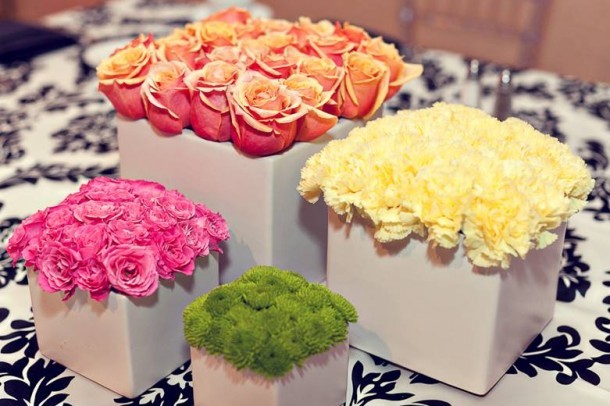 Photo courtesy of Jackie VanHatten.
The Look: If you're going for a smart, current look, try white square vases with one type of flowers tucked in tightly. Use different sized vases in a cluster on one table, or for larger events, pick one size to use on every table.
The Flowers: If you're going with a cluster of vases on one table, choose various colors or shades of one color and different textures to keep the look interesting. If you have many tables to decorate, it's best to choose one or two flowers. Carnations and pom pom buttons are inexpensive, come in many colors, and are perfect for this look, but any flowers that can be pressed together without leaving a gap or hole will work.
The How-To: You'll need to purchase floral foam (commonly made by Oasis) to perfect this arrangement. Soak the foam in a sink or bucket filled with water for a few minutes until fully saturated. Remove the foam from the water and cut with a butter knife to fit the vase size. The more snugly the foam fits in the vase, the easier the arrangement will be to create.
Cut your flowers so that they're long enough to have the bloom resting on the edge of the vase and at least a quarter inch of stem inserted into the foam. Start in the corner and place the next flower so that it's snug against the first, following along the edge of the vase. Create the first row and then move to the second. When you've filled your square, go back and fill in any holes you see. The more tightly packed the flowers, the better your arrangement will look!
Simple Elegance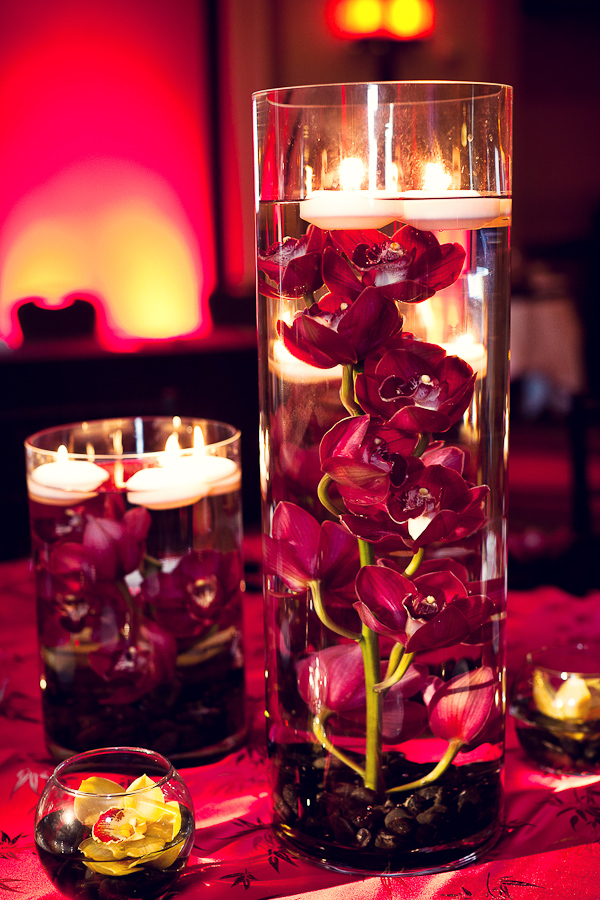 Photo courtesy of Jackie VanHatten.
The Look: If you're looking for something classic and upscale, try submerging flowers in clear glass vases—any size or shape will do.
The Flowers: Cymbidium orchids are great for this look. Not only are they hearty blooms that last for days (sometimes even weeks), they come in many colors and both regular and mini sizes. Other flowers that look great under water are tulips, roses, calla lilies, and branches.
The How-To: Fill your vase ¾ full of water. If you are using cymbidiums, keep them attached to the stem. I also like to put something at the bottom of the vase, like stones, sea grass, or curly willow.
After you've arranged your base, slide in your stem of orchids. If it's too tall, pull it out and cut to fit just under the surface of the water. Add floating candles for added drama.
Eccentric Whimsy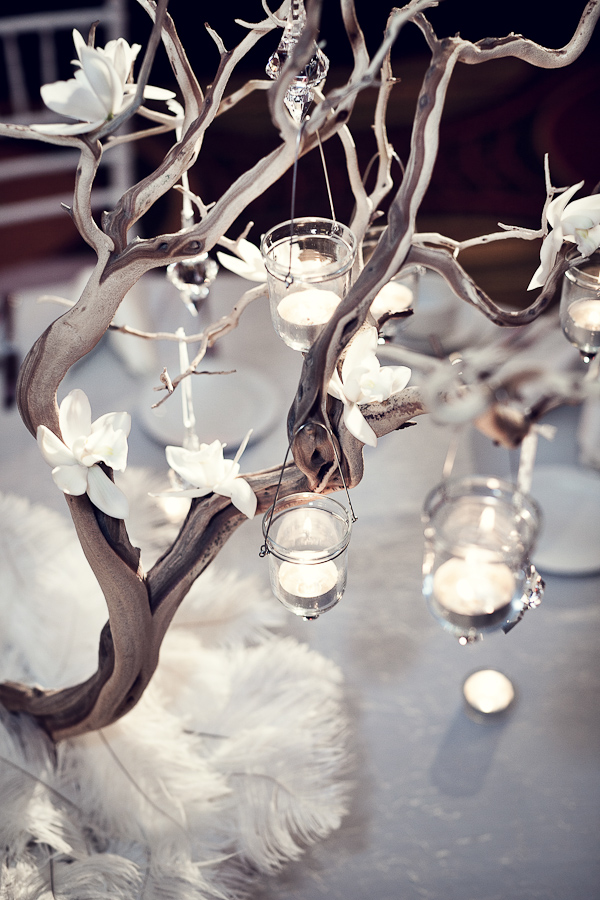 Photo courtesy of Jackie VanHatten.
The Look: Decorated manzanita branches provide a stunning look on any table. You can secure the branches by cementing or gluing them to the bottom of wood boxes or ceramic vases — but the easiest and least expensive option is to slide each branch into a tall glass vase.
The Flowers: Lightweight flowers work best for decorating manzanita branches. Dendrobium or cymbidium orchids are a popular choice, though you can use a heavier bloom if you have floral glue. Don't be afraid to think beyond the flowers though — add hanging crystals, lanterns, feathers, pearls, or even colorful glass balls during the holidays.
The How-To: Since manzanita branches have so many crooks and crannies, there are natural spots that just beg for a flower. Find those spots and gently tuck the bloom into the branch. If the flower is light enough, that's all you need to do. If you use a heavier bloom, secure into place with floral glue — just make sure you hold it long enough for the glue to dry.
To hang other items, use fishing wire, clear ornament hooks, or pretty ribbon. If you're using a clear glass vase, you can add petals, cut blooms, stones, or other items to the bottom.
Casual Romance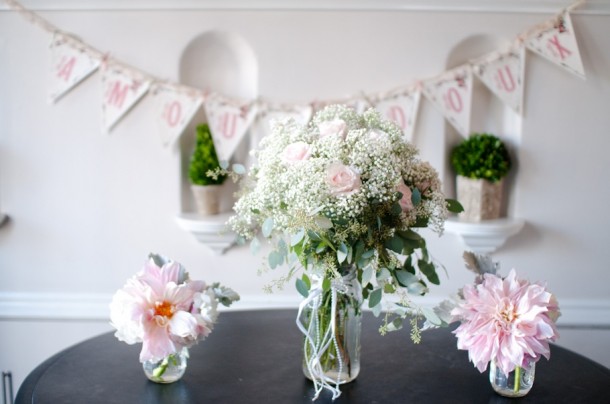 Photo courtesy of Jackie VanHatten.
The Look: For a soft, feminine look that's great for a shower or luncheon, go for a large bloom tucked into a mason jar and adorned with greenery. It's so simple — but feels so luxurious!
The Flowers: Peonies and dahlias are perfect for this romantic look. There are so many varietals of each that you'll have lots of options in terms of shape and color. Use interesting greenery, like eucalyptus, dusty miller, or lamb's ear to add dimension.
The How To: Fill each mason jar to the neck with water. Choose two flowers per jar and place them back to back. Cut the flowers short enough so that each bloom is snug against the edge of the jar and just hangs over the edge. Cut pieces of greenery and tuck them in between the blooms so they too, hang over the edge. Use more on one side than the other or add small filler flowers to keep the look asymmetrical. Wrap ribbon, twine, or faux pearls around the neck of the jar for added flair.
With a personal touch or simple tweak, these four arrangements can be used for any bridal occasion. Though I highly recommend hiring a professional for the big day, by following these design guidelines, it will look like you did for all the celebrations leading up to it.
Veteran professional event planner and MBA, Emily Gladnick is currently the Owner and Lead Designer of San Diego-based Urban Garden Floral & Event Design. She lives in Encinitas, CA with her husband and two daughters. She loves wining and dining with her girlfriends, rainy days, and, of course, a well-planned party!
Related Links:
For more event planning expertise for work and life, check out:
4 Party Ideas to Kick Off the Summer
Planning the Perfect Shower: For the Bride & Everyone Else
Your Guide to the Perfect Easter Sunday